Valvular Heart Disease starts with a recurrent throat infection and joint pains in childhood or teenage. Mostly it occurs due to Rheumatic Heart Disease. It is very common in our country.
There are four valves in the human heart and in many cases, one or two valves are affected. The commonly affected valves are known as mitral and aortic. Sometimes the tricuspid valve is also involved. Valve problems may be either narrowing (stenosis) or leaking (regurgitation) or a combination of both.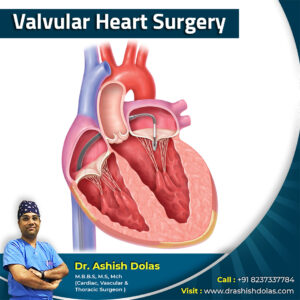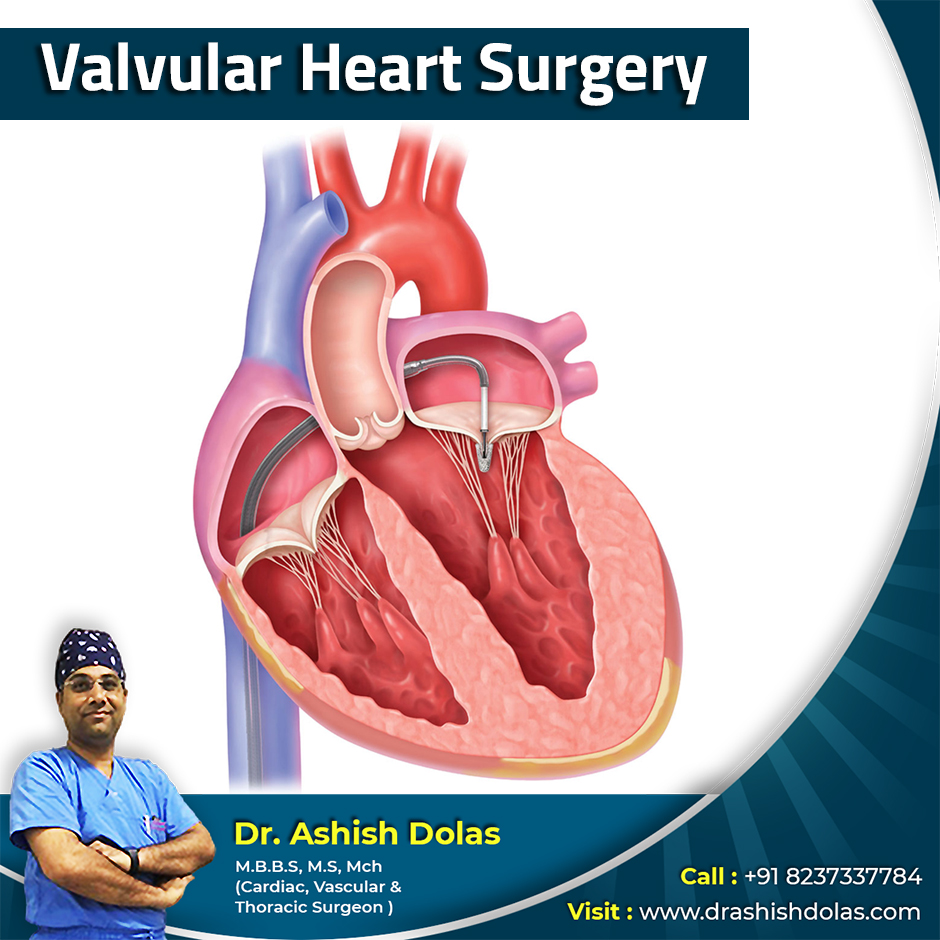 Damaged valves require either a repair or a replacement. If we don't do so, then it may cause a problem. It will affect the growth of the heart and increases pressures in the lungs.
Heart Valve Surgery can be done either by a conventional route or by a minimally invasive route. Dr. Ashish Dolas, the Best Cardiac Surgeon in Pune, specializes in doing valve surgeries by the minimally invasive route.
Minimally invasive cardiothoracic surgery has its advantage in the form of a small incision, faster recovery less pain, minimal blood loss. As the scar is beneath the breast in females it is widely accepted for its cosmetic value.
TYPES OF VALVES:
Prosthetic (artificial) heart valves are broadly classified into two types:
Mechanical
Bioprosthetic
Mechanical Valve: Mechanical Valves are made of Pyro lite carbon (one of the strongest material known to mankind). It is used in younger patients and will last a lifetime. However, it is important that patients take Warfarin or Acitrom lifelong.
Bioprosthetics or biological valves: Bioprosthetic valves are also known as biological valves. They are made up of biological tissue (Pericardium). It is best suited for patients above 50 years of age. Warfarin/Acitrom is not needed. This valve is supposed to last 20-25 years hence not recommended in patients below 50 years of age.
Care after a Valve Replacement:
It is important that patients take care of themselves after a Valve Replacement. Most common problems to be prevented are:
Infection – It is the most frightening complication. It is dangerous if the infection occurs in the valve. Fever is also an indication of infection. Oral hygiene is of utmost importance. Toothache is dreaded as bacteria if circulates in the blood.
Dr. Ashish Dolas recommends two times brushing of teeth, Hot Saline Gargles and Listerine/betadine mouth wash before going to bed. Slightest toothache antibiotics are recommended.
Urinary tract infection, skin infection in the form of recurrent boils and abscess should be prevented and if it occurs early antibiotics therapy is a must.
Embolism/Hemorrhage: Either too thick or too thin of blood is bad. You should report your doctor if you face any kind of issue after valve replacement.
Pregnancy: It is important to visit the doctor if the patient was pregnant while surgery and faces issues after surgery.
(PERSISTING FEVER, BURNING IN URINE OR ANY PROBLEM LIKE JAUNDICE, BLEEDING TENDENCY, REPORT TO DR ASHISH DOLAS)